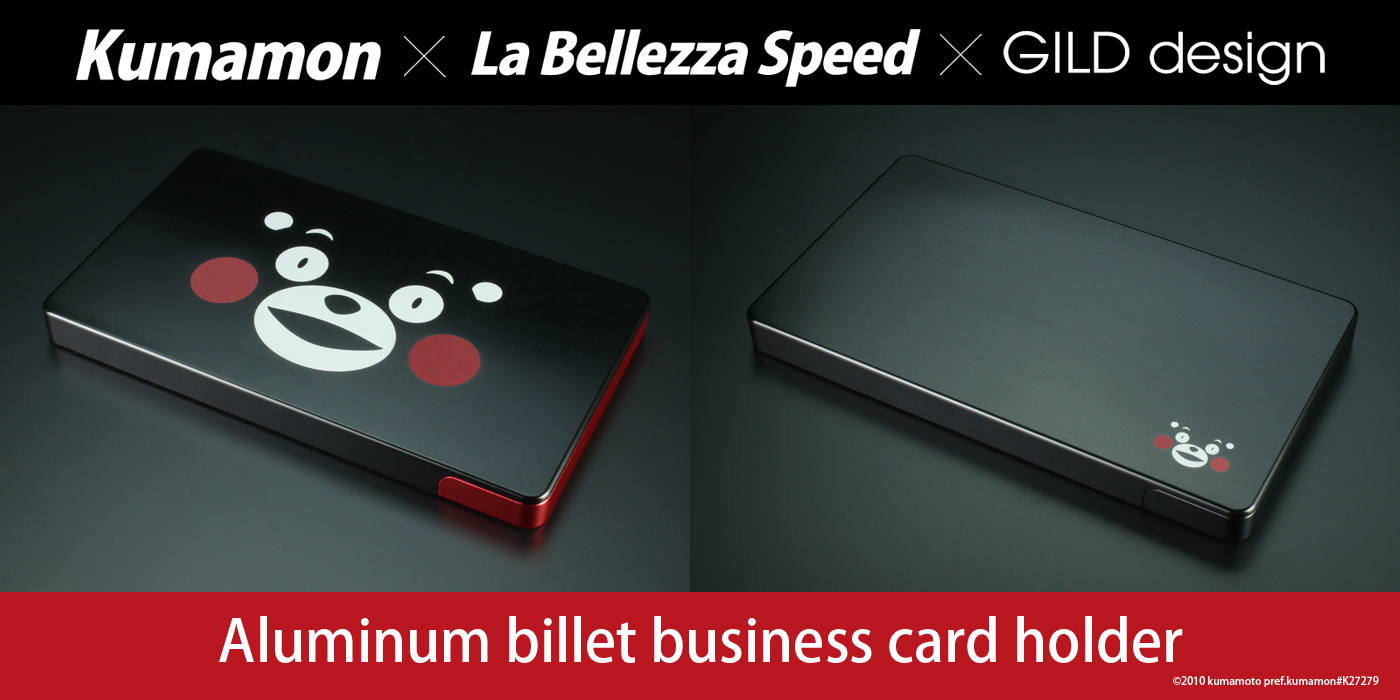 「Kumamon & LA・BELLEZZA」a collaboration model between Kumamoto Pref.
well known racing team.

We manufactured a business card holder an essential item for business from Duralumin.

The world's first business card holder with tiny built-in bearings only 3mm in diameter.
The built-in bearings gives a surprisingly smooth opening and closing.

Also, the material used with the product are made by Furukawa Sky( UACJ)
a leading manufacturer of aluminum in Japan.
The raw material of Duralumin (A2017) are milled using a precise machining center.
Not only the materials but from the packaging to surface processing are all made in Japan.

The thoroughness policy of "Made in Japan" gives us the confidence that we can provide a high quality
business card holder to the customers that they can surely trust.

We would like you to experience high quality by using a trusted product from Japan.
Applying the world's first Linear Motion Guide
This product is the world's first business card holder that is built-in with 4 small bearings 3mm n wide.
Due to this it open and close very smoothly.
Commitment to functional beauty
Applying a slide like 3 dimensional process inside the case it makes it easy to take out the business card.
Pursue of usability
It can store up 15 pieces( maximum of 25 pieces) of standard business card
that 91 mm x 51 mm in size and thickness of 0.25 mm.
A business card holder that can be use for many years.
To have a satisfying opening and closing, latch structure was applied by using a spring and bearings.
Cases carved from blocks of duralumin are light and have superior durability. They are built to last forever.
About the After-sales service
In order for our products to last as long as possible, we offer free (See Note 1)
overhaul service regardless of how long the product has been in use.
(Note 1)The cost of shipping, replacement of parts, and resurfacing will be borne by the customer.
Please contact us with any questions you may have and we will explain the after-sales service process in detail.
item number:GM-228
Material:Duralmin A2017S( Body )
Size: 9 x 110 x 62mm
Weight: 62g
Price:11,000yen

item number:GM-229
Material:Duralmin A2017S( Body )
Size: 9 x 110 x 62mm
Weight: 62g
Price:11,000yen

Regarding postage

*For DHL
If the total value of your order is 11,999 yen or less, you will be charged 2,500 yen for shipping.
If the total value of your order is 12,000 yen or more, you will be charged 1,500 yen for shipping.


Please be sure to add your phone number on PayPal when using DHL Priority shipping.
We cannot process the shipping if this information is not included on the invoice.
Regarding the order.
Please read carefully the following before making an order.

We will send a notification regarding the date of delivery individually by email.

The shipment will be in the order as we received them. However, Order colors, and mixed color cases will take time to prepare, this might change the shipping order.

Before making an order please be sure to set your mail to receive messages from info@gilddesign.com.

When the order is complete an auto reply message will be send to you. If you cannot receive the message, please contact info@gilddesign.com after setting the domain.

Caution
●This product is anodized. There are two dots that were not anodized on the back side of the case.

These are the electrical connection places that will not catch the color during the anodizing.

●We might make changes on the case functions, appearance, or package contents without giving a notice.

●After putting the wrench firmly into the screw, please fasten it with the right amount of force to prevent the screw from breaking.

●This product was designed to hold business cards that are 91mm×55mm in size.

●Please refrain from handling the case while holding it on only one side. The business cards may fly out if the case is handled in this way.

●This product was made with precise machining of the case to fit the bearings perfectly. Please do not attempt to disassemble it yourself.

●During the assembly of this product, the slide and bearings had a very small amount of hydraulic oil applied to them. During the initial period of use, some of the oil may adhere to business cards placed inside the case.

©2010 kumamoto pref.kumamon#K27279