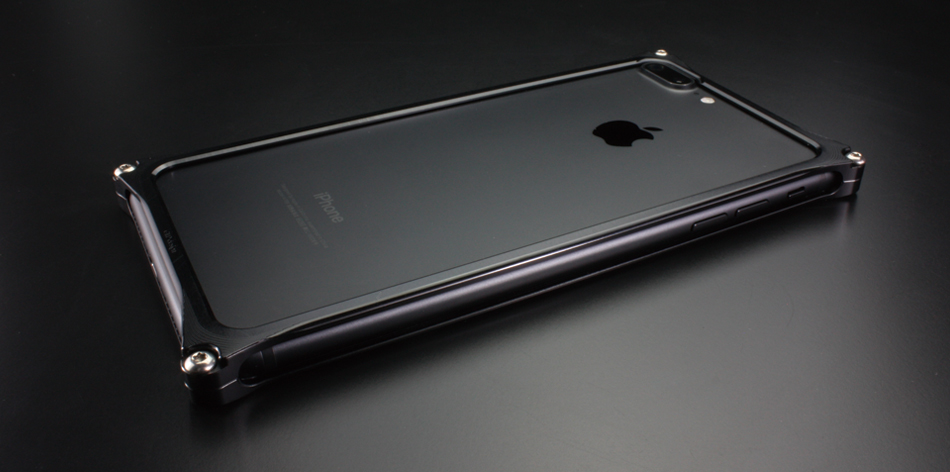 Solidbumper for iPhone7Plus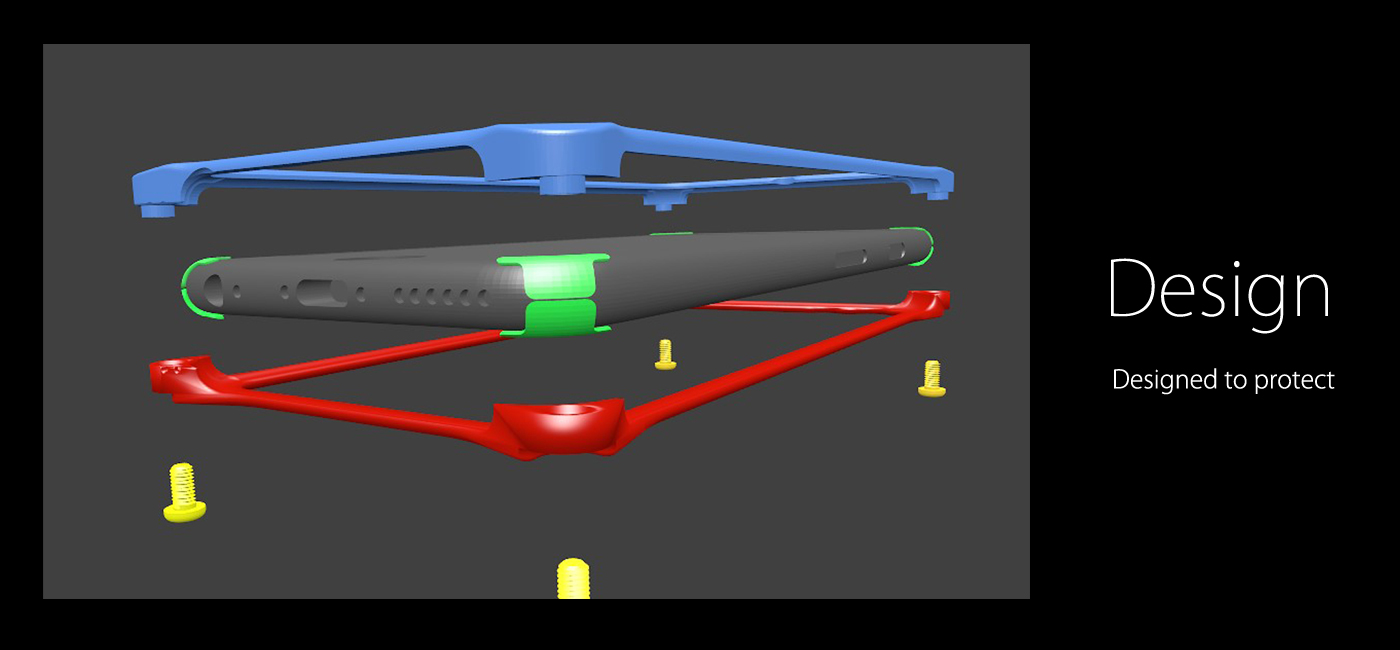 We often hear comments from our customers that "Gild Design's cases all have the same basic design with four protruding corners―their designs never really change."
Most of the time when a smartphone falls, it tilts and land on one of its four corners.
Ordinary aluminum cases have corners with a thickness uniform with that of the rest of the case. These carry a risk of deformation when dropped.

Our company 's cases are stress tested with 3DCAD, and we have conducted several drop tests. We think that actual drop test are of the utmost importance.
Our cases are designed to withstand being dropped several times without deforming.
Designing a case that protects and easy to use led us to using the aforementioned designs.

Gild Design's cases may not be fancy to look at. Attaching or removing them with the bolt may also take a bit of time.
However, we think providing users with stress-free operation and a build quality that resists damage due to falls and bending should be of primary importance in our designs.
We want to provide cases that will protect your phone for 2 years at the least ― Even if the case has been roughly used.
Smooth Our pursuit of usability
We pursued a case design that would be easy to hold without causing any discomfort when attached to the iPhone 7Plus
We completed our design after repeated trial manufacturing runs in order to get this just right.
Our cases are designed not to interfere with the operability of any of the iPhone's main functions ―
including the earphone jack, lightning cable, and volume button.
Rubber o rings are attached to prevent the screws from losing.
Our iPhone 7Plus cases also come equipped with a strap hole.
The strap is connected on the bottom left of the phone,
so it will not interfere with the mouthpiece during phone conversations.
The cases can also be easily stored in your pocket.
Available color bolts are the same size and can be used for iPhone 7Plus cases.
Cradle ( compatible for apple's genuine lighting cable)
can be used for iPhone 7Plus. Even the case is attached.
The case is designed to have a relief near the lens,
therefore the case will not touch the lens.
Apple Pay can be used while using the solid or bumper cases.
Product no:42012
JAN:4522285420121
Color:Silver
Product code:
GI-282S
Price:10,000yen
Size:82×163×10mm
Weight:21g

Product no:42013
JAN:4522285420138
Color:ChampagneGold
Product code:
GI-282CG
Price:10,000yen
Size:82×163×10mm
Weight:21g

Product no:42014
JAN:4522285420145
Color:PolishBlack
Product code:
GI-282PB
Price:11,000yen
Size:82×163×10mm
Weight:21g

Product no:42015
JAN:4522285420152
Color:Black
Product code:
GI-282B
Price:10,000yen
Size:82×163×10mm
Weight:21g

Product no:42016
JAN:4522285420169
Color:Red
Product code:
GI-282R
Price:10,000yen
Size:82×163×10mm
Weight:21g

Product no:42017
JAN:4522285420176
Color:Polish
Product code:
GI-282P
Price:10,000yen
Size:82×163×10mm
Weight:21g

品番:42018
JAN:4522285420183
Color:Blue
Product code:
GI-282BL
Price:10,000yen
Size:82×163×10mm
Weight:21g

品番:42019
JAN:4522285420190
Color:Gray
Product code:
GI-282GR
Price:10,000yen
Size:82×163×10mm
Weight:21g

Solidbumper Matte red edition for iPhone7Plus

The matte red edition is made by sand blasting the machined case before anodizing it with color red.
Also, the attached colored screws are specially made for the (Product) RED.
The Standard red is made by anodizing the case soon after production. However,
the matte red goes to sand blasting after production it goes through cleaning,
and chemical polishing then anodizing process.
This is made to suit the color lineup (product)red of the iPhone 7Plus.
Please note that the surface process is not the same as the color lineup (product)red of the iPhone 7Plus
Product no:42225 JAN:4522285422255 Color:MatteRed Product code:GI-282MR Price:11,000yen Size:82×163×10mm Weight:21g

The product below can be used with the Solid bumper.

Ichimatsu Aluminum panel for
Solid Bumper for iPhone7Plus
Tempered glass protective film
for iPhone 6Plus/6sPlus/7Plus
Aluminum color screw set
About polished black

Standard color black cases are made by simply anodizing
the milled aluminum cases after washing the case.
However, polished black cases are made in a different way.
The milled cases are buffed, washed, and anodized.
Then buffed again before shipping.

This model suits the Jet Black iPhone 7Plus very well.
*The surface finishing is not the same as the Jet black for iPhone 7Plus.
The difference between SILVER and POLISH

POLISH



Polish is made by buffing the aluminum until it has a mirror bright finish.
It can easily have scratches and finger prints on,so it requires more care
but it is beautifully and smoothly finished.


SILVER



Silver is made by anodizing the aluminum ,making is
stronger from scratches,finger prints and
any other stain won't get easily on it.

Regarding the order
Please read carefully the following before making an order.

We will send a notification regarding the date of delivery individually by email.

The shipment will be in the order as we received them. However, Order colors, and mixed color cases will take time to prepare, this might change the shipping order.

Before making an order please be sure to set your mail to receive messages from info@gilddesign.com.

When the order is complete an auto reply message will be send to you. If you cannot receive the message, please contact info@gilddesign.com after setting the domain.

Warning
・Please understand that we are not responsible for any breakage, or damage that may be caused by actions that were not suggested in this instruction.

・This product is made of Duralumin, which interrupts the signal from the back of the iPhone. It is possible that might lower the phone reception.

・This product is anodized. There are two dots that were not anodized on the inside of the case. These are the electrical connection places that will not catch the color during the anodizing process, and it is not a defect.

・This product is designed for iPhone7Plus.

・This product is not made to protect the iPhone7Plus completely from all kinds of damage. Please notice that we will not be responsible for any breakage, loss, damage, or data loss of the iPhone.

・By using silicone shock absorber sheets, our product is designed to prevent the iPhone and the aluminum case from touching each other, and it is not designed to protect the iPhone from all damage.

・Please be aware that our company will not be responsible for any scratches on your iPhone when using the case.

・We might make changes on the case functions, appearance, or package contents without giving a notice.

・There are possibilities that chargers and earphones that are made by companies other than apple cannot be used. (The diameter of the earphone jack is 8.5mm)

・Any protection film under 0.2mm can be used. However, depending on the type of the film there will be possibilities that the film make a gap between it and the screen.

・This case is made of aluminum! Please be careful on the sharp edges when installing the case.

・There is a top and bottom in this product. Please be sure that the circular cut on the case will go to the earphone jack side.

・After putting the wrench firmly into the screw, please fasten it with the right amount of force to prevent the screw from breaking.

・Please note that as the characteristics of anodizing, it is difficult to produce the same color.
There are possibilities that color differs from the image due to the production lot


※iPhone.iPad are trademarks of Apple Inc.
※The trademark'iPhone'is used with a license from Aiphone K.K.